Revisiting Bertin's Matrices
New Interactions for Crafting Tabular Visualizations
Charles Perin, Pierre Dragicevic and Jean-Daniel Fekete

Bertifier is a Web app for rapidly creating tabular visualizations from spreadsheets. It directly draws from Jacques Bertin's matrix analysis method, whose goal was to "simplify without destroying" by encoding cell values visually and grouping similar rows and columns. These pages contains material that supplement our article (PDF below). The content will be updated and enriched over time.
Download the Paper
Charles Perin, Pierre Dragicevic, Jean-Daniel Fekete (2014). Revisiting Bertin's Matrices: New Interactions for Crafting Tabular Visualizations. TVCG, VIS' 2014.
You should also visit the project page of our physical reproduction of Bertin Matrices that was exposed during the VIS 2015 Bertin Exhibit in Paris.
More details about Crossets here
Try Bertifier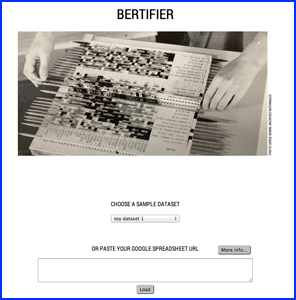 Click on the image above to launch the Bertifier Web App. We suggest you first watch the 5-min video tutorial below.
Video Tutorial
Link to the video tutorial. Set to HD 1080 and full screen.
Other material
Other supplementary material (also on the top menu):
Ackowledgements
We thank authors of previous systems and their past collaborators for providing us with material for our research: Günther Sawitzki, Harri Siirtola, Patrice Mitrano, Philippe Lecarpentier, Joël Le Fourn, Gloria Villarroya and Marie-Françoise Durand; Thanks to Emanuelle Giry and Denise Ogilvie for organizing our visit of Bertin's archives in the Archives Nationales; Yvonne Jansen for providing us with numerous datasets; Yvonne Jansen and Benjamin Bach for their early feedback on the paper; Jeremy Boy for his feedback on the visual design of Bertifier; Jeremy Boy and Nadia Boukhelifa for their voiceovers; Fanny Chevalier for convincing the first author to kickoff the project. Thanks to Renaud Blanch for providing the original implementation of the 'Optimal Leaf Order' computation. His improved version is now available here.
Your feedback
License